Thursday, September 27, 2007 at 11:04AM
After entertaining at dinner Sunday evening, we were scheduled to leave for the Keys bright and early Monday morning. To that end, I really scurried around until late Sunday night cleaning, straightening and packing up. I finally got to sleep around
2 AM
and then spent the rest of the night tossing and turning. When I'd finally fall asleep, I be jolted upright by huge house-shaking rolls of thunder and sharp cracks of lightning. By
5:30AM
I was on the computer checking weather reports for
South Florida
. Thunderstorms scheduled everyday until Thursday (today) and we were scheduled to come back home on Friday anyway. I made the executive decision to cancel our trip.
We have had solid rain here Monday, Tuesday and Wednesday. Pretty much torrential rains. Our little lake is almost up to our back door. There is palm bark everywhere. This morning though, the sun is shining. I have not been dismayed by not going camping. I enjoy just being home. Let's see, what have I done? Well, for one thing I have spent a fair amount of time trying to teach Taffy to "Sit, down, roll over." Actually, I've spent hours and hours. Let's put it this way...she's not the smartest fur coat on the rack.
When I taught Razz, she learned the command in about an hour and worked for small chunks of Swiss cheese. I've been working with Taffy three times a day for the past three days and had to up the ante to Beggin' Strips. The kicker is that she already knows "sit" and "down" so it's just the "Over" part we're doing that's new. I sit on the floor and ad nausea repeat, "sit" (she sometimes "spins" (another trick I taught her) instead of sitting, then I yell "down" pointing to the floor and she goes down, but she's so excited she's twitching all over, then I grab her harness and roll her over shouting "OVER!" and then give her the Begging Strip. She grabs the Begggin' Strip and starts spinning in circles before running and hiding under the dining room table to eat it. Every single time I have to haul myself up off the carpet and crawl under the dining room table to haul her out by her harness to go through the routine again. I look up at John who is sitting in his recliner with a book and say "She's no Razz, is she?" He becomes all defensive and tries to explain everything away by saying "Well, she is Welsh, you know." Evidently if I were English as he is, I'd understand the ramifications of his pronouncement based upon the dog's heritage and ancestry.
When I roll Taffy over, I realize how fat she's gotten since Razz died on November 3rd at
4.57PM
(not that I'm still traumatized by it or anything). She's like a little barrel. People will ask me, "Is Taffy still grieving for Razz?" My eyes tear up at the very mention of Razz and I look over at that little traitor Taffy and reply, "Hell No she doesn't grieve and never did! She was just as happy as could be to see Razz go! ALL the food is HERS! ALL the toys are HERS! ALL the attention is HERS! SHE has Daddy all to herself. And, I've practically moved into the guest room to sleep because SHE and HER precious "Daddy", as she refers to him sleep right smack dab in the middle of the king sized bed leaving me no room. And, .they both snore. No, she does not miss my beloved Razz Ma Tazz." Anyway, I am determined that this little spoiled scoundrel, the "other woman" in my life, is going to work for her treats. She and her "Daddy" may not remember, but long before I became an administrator, I was a teacher. I taught severely emotionally disturbed urban inner-city apprentice gang bangers. If I could get them on a behavior mod. reward system for performance I sure as heck can do it for a fur covered idiot savant. If she can, without fail and never vary by 2 minutes, twice a day at
9 AM
and
3PM
, spring up from a sound sleep, run into the kitchen, jump on the pantry door and bang the holder for her Publix poop bags signifying walk time, she can sure as heck roll over for me. I have no clue how she tells time, especially when we change the clocks and she's still right on the money. She's got until Saturday to get the trick down pat or there will be consequences. I'm not sure what those consequences will be yet, but I can be very creative. And if John says one more time, "oh leave the poor dog alone, she's not a circus animal, you know", I'll think up some consequences for him too! I am if anything….Stubborn with a capital
S.
Speaking of the
S
word. Yesterday between teaching sessions I was determined to make a crème caramel as good as Edith's. I scoured recipes and combined two that ummm…I dunno, just felt "right." Husband and I always have big discussions about "intuitive" cooks vs. "cooks." He contends that I am an intuitive cook which he tries to explain as sort of like being able to draw or paint. I think it's just more a matter of lots of experience and an analytical mind. Who knows? If I do say so myself, my crème caramel was as good as if not slightly smoother than Edith's …shhhhhh….I took photos as I went along.
Swirl caramelized sugar (1 cup sugar, 4T water, bring to a boil and boil for about 5 mins until it turns a beautiful golden brown) around glass bowl
5 eggs (I always use jumbo eggs)and 1/4 cup sugar
Wisk eggs with 1/4cup sugar, add 1 cup milk and 1 cup heavy cream, 2 tsp PURE vanilla extract (you cannot cook French and be a cheap cook! Why do you think French food is so good?)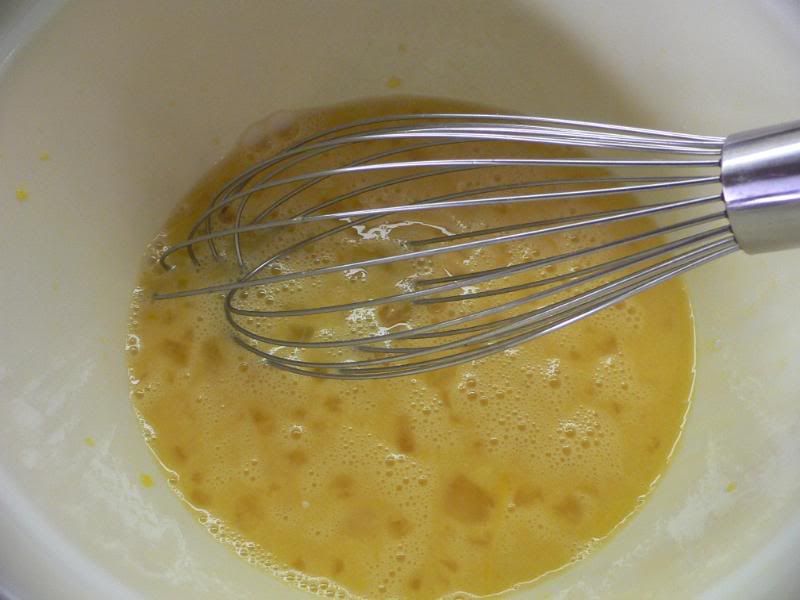 Bring the egg, sugar, milk, cream, vanilla mixture just to a boil and remove for heat. Use a good quality heavy pan and stir often. Cover and let sit for 20 minutes.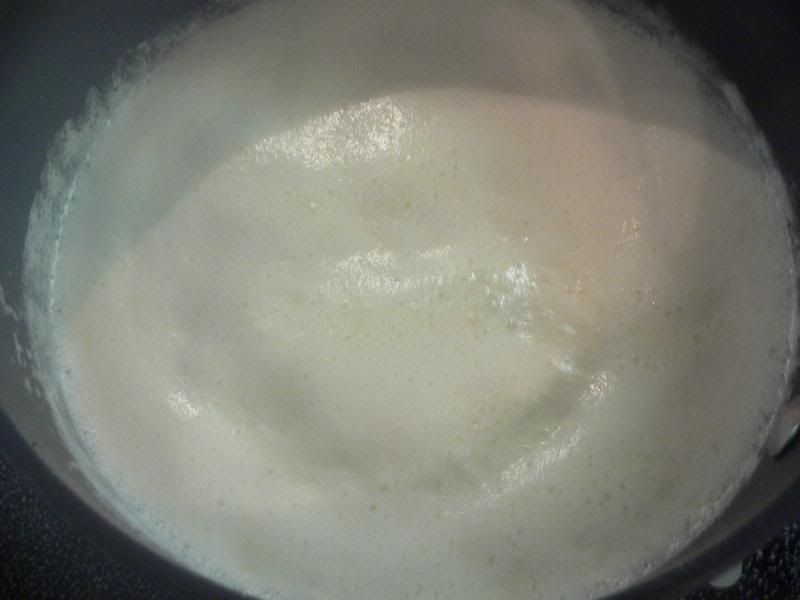 Place bowl of carmelized sugar into a roasting pan and fill with boiling water to halfway up the sides of the bowl. Pour the slightly cooled milk mixture into bowl with carmelized sugar. Cover with foil. Pop into a preheated 325 oven for about 40 minutes. I have a convection oven so your time may vary. That's why it has that big fan in the back...see?I could not exist without my convection oven.
Check for doness by inserting thin blade knife 2 inces from rim. Knife should come out clean. Do not overcook.
Cool for 30 minutes. Place in refrigerator for at least six hours or overnight. Remove from bowl by placing a plate over top of bowl and CAREFULLY flipping the whole kit and kaboodle over. Or if just for family and presentation isn't your thing (we can't all be as uptight as I am) just serve it out of the bowl in which it was cooked.
VOILA'!!!!!!!!! NOTE: THIS WAS INCREDIBLY EASY TO MAKE...sort of like sex, once you get past the mystery excitement of it all when you're young, you realize that it was much ado about nothing (don't you love Shakespeare mixed in with sex talk and cooking recipes?)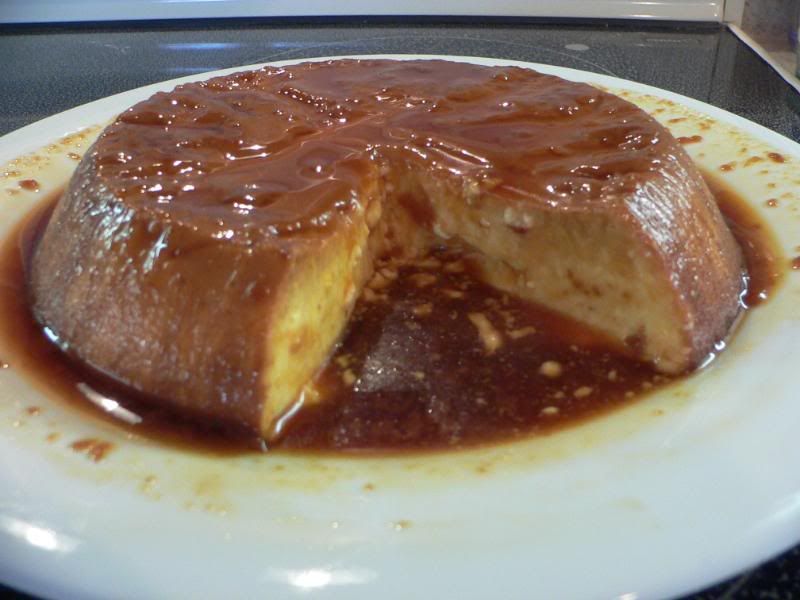 Last but not least…raise your hand if you think I should go back to work again. Thinking about what I just wrote I sound like a bored, slightly batty ,aging but still youngish and energetic retiree. Obviously, I'm losing it. Think carefully before raising that hand…there but for the grace of whatever goes each of you one day.
Dana
|
Post a Comment
|
2 References
|