Wednesday, January 6, 2010 at 5:14PM
Just in case you were thinking that I was exaggerating how cold it is here, I wasn't. It was frigid last night...AND...WE HAD NO PROPANE!!! I mention this fact merely because OUR FURNACE RUNS ON PROPANE. We knew that we were low on propane on Monday, but no big deal, the propane delivery man services this place on Tuesdays. There's a system. You put this dayglow green "I Need Propane" sign in your window, the guy drives around in his big tank truck and stops at the places with the sign. Simple. Being the mistrustful person that I am, I called the propane company to request a Tuesday delivery. I like being careful. It's who I am. It's why they let me be the school principal. The scretary said "It's good to call, sometimes the driver doesn't see the sign because everyone puts them in a different place. I'll write you on his delivery sheet." Was I as smug as a bug or what? Little Miss Careful.
Well, Tuesday, about 4 AM, the propane was gone. How did we realize this? Basically because the vent was blowing ice cold air on me at about gale force strength. But hey, we'll be ok because it's warm here in the bedroom and we've got the little oil filled radiator electric space heater in here with us and that propane man is coming. So says Mr. Sunshine when I shake him awake and announce that I'm cold and am worried about the dogs being too cold because we had their hair cut on Sunday and I knew we shouldn't have done that because it was predicted to get cold and we're bad dog parents and yada yada yada. We snuggled back under our two comforters and one blanket wearing our flannel jammes and waited for the sun to rise. The dogs were jammed up against us.
We eventually arose about seven and opened the pocket door from the bedroom into the bathroom....brrrrrr. Then, we opened the pocket door on the other side of the bathroom to the living room/kitchen. OH MY GOODNESS! It was the gulag of RV living. I screamed to John, "Quick!!! Get the Girlz coats on them! It's freezing out here" He replied, "OK, but calm down. The propane man will be here soon." We dressed the dogs and dragged the space heater out of the bedroom. I braved the elements and took the poor dogs out. Believe me, each one did a ten second pee and raced back up the steps. The space heater had absolutely no effect out in the larger living area. The dogs stayed in their coats. I dressed in so many layers I could barely move. We waited for the propane man. I called the office a zillion times and only got a busy signal but I kept trying. It got colder and colder in here. We waited for the propane man. Finally around 9 PM I said, through chattering teeth, "I wonder what time he's going to get here?" John said, "He's not coming." I said, "I want to go to a hotel. I'm worried about the dogs." John said, "Oh for God's sake stop carrying on!" So I did. I went to bed dressed in my sweat pants, a shirt, a sweater, a fleece and socks. I made the dogs wear their coats. I tried shoving them under the blankets but they refused. They did crawl up between the two of us and snuggle. I watched TV until midnight. We had the space heater closed in with us.
I woke up around 4 AM feeling like I had died and gone to hell. I was sweating and these two breathing heat producing furry furnaces we stuck to me, snoring. I couldn't unbotton my fleece to rip it off so I woke John up to get me out of it. He was less than nice and said mean things to me about waking him up. I would love to know how many heat BTUs two humans and two dogs put out. I couldn't go back to sleep but didn't dare get out of bed and go out to the gulag.
When we got up I started trying to phone the propane company...busy....busy...busy .It was really cold in here. We knew we couldn't go another night like we did last night. Well, I knew I couldn't nor woudn't. We unhooked the two big propane tanks and squeezed them into the car. We drove around looking for someplace to fill them. Eventually we found one. We filled the tanks and hauled them back here. As we tightened the last fitting we saw the propane man entering the next street over....it figures. We took our green sign out of the window. There was no more welcome sound than hearing that furnace kick on and throw out the heat.
Below is the past twenty four hours...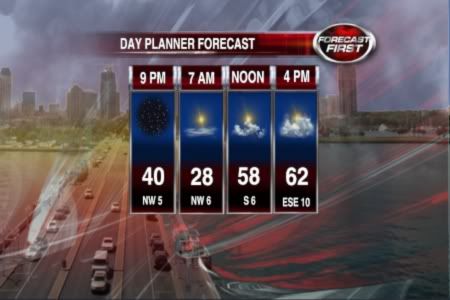 This is how it's predicted to be...
And this is just for the heck of it...
Dana
|
4 Comments
|