Wednesday, July 27, 2011 at 8:43AM
Obviously I have returned. Three and a half weeks of having four house guests, including a five year old and a two year old, have just concluded. Can we all say, in unison, "Whew, Dana is really getting old." We loved having them all here and photos and commentary are forthcoming. I also have a new laptop that has some hiccups..
The living dangerously thing all started with this..a photo I saw on the internet.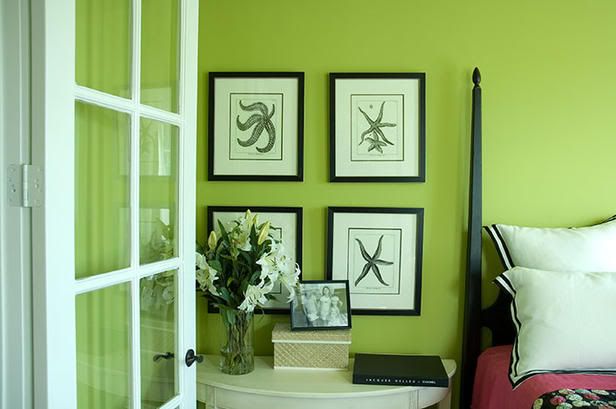 I was wandering around the HGTV website quite innocently when whammo! I was dazzled and delighted. A dilemma was solved. Happiness reigned in the land of Chez Dana and John. It was all good. To fill in the back story...
We have been in this house for a year now. It's a large house. Upstairs there are three large bedrooms, a bonus room/loft and two full bathrooms, one with double vanities, one with single vanity, both with tub and shower. Downstairs we have our master bedroom and bathroom, living room, dining room, great room, kitchen, breakfast room, laundry room, an office/bedroom and another full bath with tub and shower, single vanity etc.. The office/bedroom has a walk-in closet and double glass doors as shown above. The previous owner used it strictly as an office. I have made it into a combined office bedroom so that guests who have difficulty with stairs ie my brother-in-law with Parkinson's or my eighty-five year old Dad have an easily accessible bedroom to use while here with us.
I love most of the colors that were in the house when we bought it, warm earth tones. Our bedroom, the office and the laundry room were the exception, all painted the same color, a dark, dark, drab, drab olive green. The office bathroom is a deep red with a lot of orange to it. We had our bedroom and bathroom repainted the same color that we had in the old house, Benjamin Moore Misted Green as seen below in the previous house. I love the color. It's a spa color and is either blue or green depending on the time of day and the light.
Here are some ugly photos of the office/bedroom as it presently stands...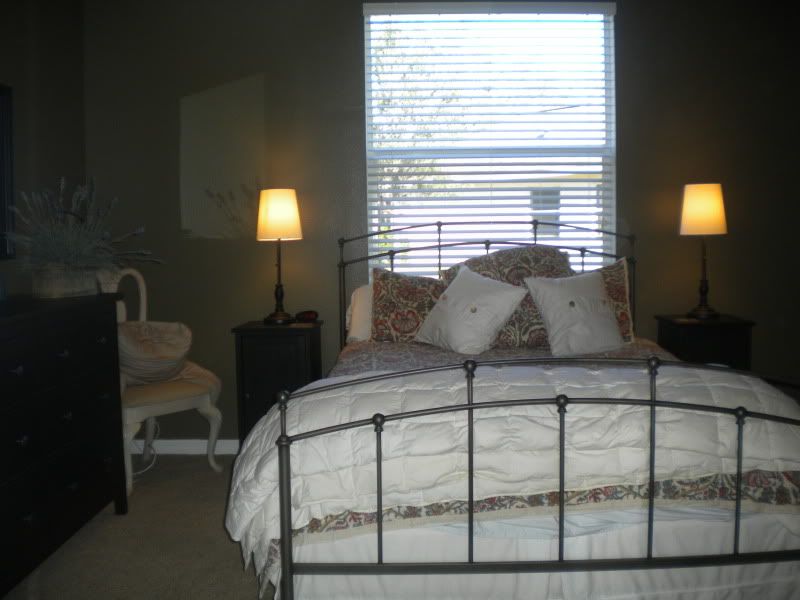 The color is so dark and drab that's it's difficult to even take a photo with the blinds open and the lights on. As you can see, the bed is iron and the furniture black. The bathroom is this color...
After much hemming and hawing, I found a Sherwin Williams color named Parakeet. I loved the color and adored the name. That being said, I am a loyal Benjamin Moore girl so dragged my SW sample down to Benjamin Moore for a custom tint primer and eggshell paint in a quart size as a sample. The color is not as chartreusey (I just made up that word. It's a blogger's form of literary license) as that original HGTV photo. I had husband paint a square of it on the wall and I love it. Here is a sample photo of parakeet...
The bedding will be white matelasse with a black and white throw at the foot of the bed. I'll search for a black and white toile shower curtain. I'll use simple voile sheers over the white window blinds and that's it.
I think the flash makes the color look washed out in this photo.
Dana
|
Post a Comment
|