Friday, October 23, 2009 at 5:18PM
Today's mulling of why the world is the way it is was engendered not by visions of sugar plums dancing around in my head, but by a quick jaunt around my local COSTCO. COSTCO has flown by Halloween, bypassed Thanksgiving and is in the orgasmic throes of hawking everything commercial however loosely connected to Christmas. I must tell you that we do not do Christmas. Husband and I are Athiests. We're a lot of other things, too, but we are really loathe to add Hypocrite to the list. I used to love decorating for Christmas. I still like seeing Christmas lights. But in all honesty, for me, it was never about "the reason for the season." I respect my Christian friends. I respect my Jewish friends. I respect people of all faiths. I just don't happen to be one of them. To me, the ten commandments are common sense rules for a just society, so I try to follow them. I don't need to endorse the whole burning bush thing to do so. The commercialism of Christmas really really bothers me. If I were a Christian, I'd be in the remember the reason for the season camp.
So, now COSTCO is selling all things Christmas. I look, I am interested to see what's out there for sale. We are presently wrestling with what the possible consequences might be of rather than buying the grandchildren Christmas gifts (and by the way, none of their parents has set foot in a church for decades) making a donation in each child's name to Operation Smile and trying to explain to them why we are doing so, not the religiousness of it or lack thereof, but the idea of doing for others, not necessarily a religious thing, just a human thing. Will the grandchildren still love us as much as their other grandparents? Can we continue to give them gifts for Christmas and remain true to ourselves? I feel like a hypocrite every year. But, they're children. To them it's all about Santa. It's all so very complex.
Anyway, I had no intention when starting this entry to go off in the direction I did. But here, "You pays your money and you takes your chances." What I intended to write about was Peppermint Bark. It's hard to do that and stay focused when it's 92 degrees outside. When I worked at Pottery Barn, I received a very large employee discount. That discount also applied at Williams Sonoma, Pottery Barn's parent company. Every holiday season, I'd gorge myself on Williams Sonoma Peppermint Bark. It costs twenty six dollars for one pound in a somewhat ordinary tin. I've got at least six tins hanging around here. After the first tin, they sort of lose their appeal.
At COSTCO while flitting through the bakery department dreaming about by buying a big tub of Two Bite Brownies, I spotted an equally large tub of Kirkland brand Peppermint Bark! It was a two pound tub for $9.99. Twice as much as Williams Sonoma for less than half price. I have never noticed it at COSTCO before. It was every bit as good as the WS peppermint bark. The only difference that I really notice is that the COSTCO peppermint pieces are slightly smaller. If you want to save yourself some money and you like Peppermint Bark, head to your local COSTCO.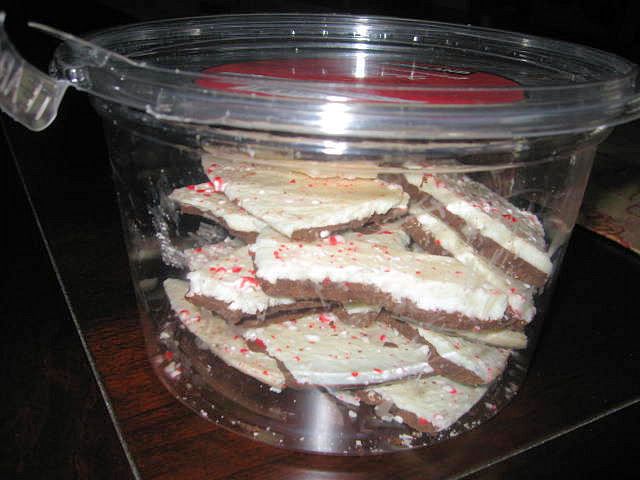 Dana
|
2 Comments
|