Saturday, March 27, 2010 at 3:17PM
Last Wednesday we drove three hours across this penninsula of a state of ours to return to our house, our home for the past ten years. We haven't been there since the end of December when our renters arrived. Gladys was there finishing up the cleaning when we arrived. The dogs were thrilled to be back in such a large inside space and especially happy to have their fenced side yard back.
Every time we go away for a while and return, I reconnect with who I am. The interior of the house is my creation and it truly does accurately reflect who I am. Husband had the house before I met him. He bought it furnished. The furniture was early eighties south Florida, all bleached wood and colors of pink, blue and light green. I always felt uncomfortable with those colors. I felt like I had no depth. I felt ungrounded. So, over the course of ten years I changed everything. Everyone who knows me knows that.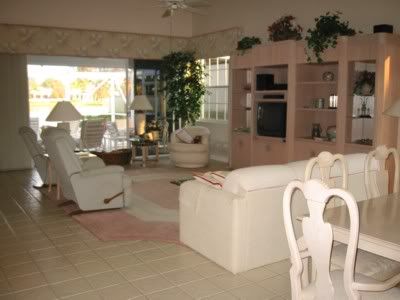 I got so much pleasure from doing the redecorating. I have no creative hobbies. But, the redecorating gave me a way to express myself visually. I realized this when I saw the video the realtor had made. I am attaching a link to it. If you watch the video, first click on the square thing in the bottom right to go full screen. Then click on HD and Stretch. When the video timer thingie (green) gets to about 1:52, you will see this guy's head as he swims across the lake. Look at the bottom left of the video to see a small black thing moving along. That's Gus. The video guy got all excited and came running in to say "Do you know there's a gator in your lake?" I replied, "Oh that must be Gus." He said, "Cool!" Here is Gus as he looks when he suns on the bank behind our lanai.