Sunday, October 17, 2010 at 4:13PM
To answer some questions from Jill about the house...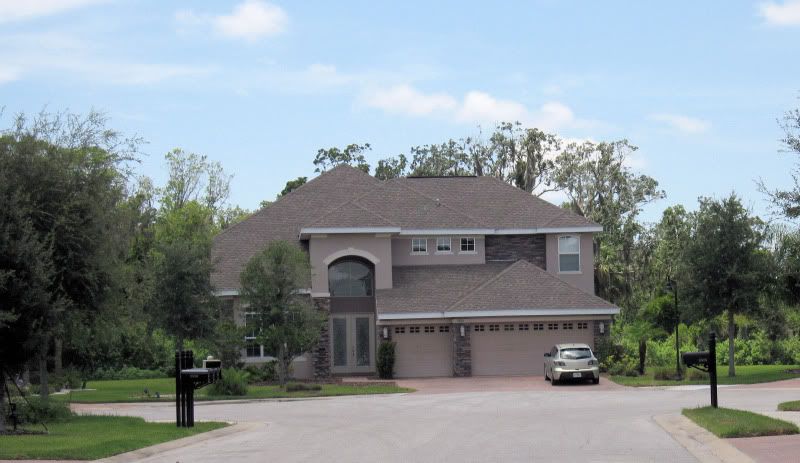 The window all the way to the viewer's right is a bedroom window.If you look at the front doors, there is a large window over the doors. The entry/foyer ceiling rises two stories.The photo below is from a house the same as ours that is currently for sale. It illustrates what I am trying to explain. The window over the door lights the bridge that crosses over the foyer.

This is the view in our house...
The garage is your basic three car garage. We park 2 cars where the big door is and behind the other door is where we stash the lawn stuff, bicycles etc..
---
Pig Update: Last week when we drove the boys to their school bus pick-up at the gates to our development, we were greeted by this sight...
Even I will admit that the pig situation is out of control. One must drive very carefully after dark. They continue to ravage the side yard next door and have also wrecked havoc on other nearby yards. The other morning I was walking The Girlz at 5:30 AM and there were three huge pigs in the middle of the street about five doors up. Thank goodness Taffy was busy looking the other way and Rico had no interest at all in the pigs. I quickly spun around and rapidly walked toward home, fearing that if Taffy saw the pigs and started barking, the pigs would charge us or something. Stacie has a friend who is a "country girl." Said friend has a pig trap. They trap the young pigs, raise them up on proper feed and then slaughter and eat them. They have a large extended family. Stacie and the boys were at a pig roast/birthday party for the friend's son and a whole pig was spit roasted in the yard. So I told Summer (the friend) that she could put a pig trap in back of our house. I did this because the neighbors have decided, in their infinite city slicker wisdom, to poison the pigs. I'd rather see them well fed for a few months and then do their pigly duty to feed a poorish country family of people willing to raise their own food to help get by...sigh...Either way, I feel for the pigs.
---
The Sarasota British Club: In an effort to meet new people, we joined. We went to our first social event last night, a tenth anniversary party for the club. As a cliffhanger, all I can say is that I don't have the energy to write about it tonight...you'll just have to endure the suspense until tomorrow...
Dana
|
3 Comments
|