Tuesday, June 11, 2013 at 8:28AM
It all started with a huge handful of Cilantro (Coriander to my UK friends). My herb garden is going berserk. I am loathe to just trim, thin and throw away. What to do with that fragrant, bright green Cilantro? Aha, Lechon Asado aka Roast Pork Cuban Style. So, off to Walmart for a fresh pork picnic shoulder, a bottle of bitter orange juice and a few fresh limes I went.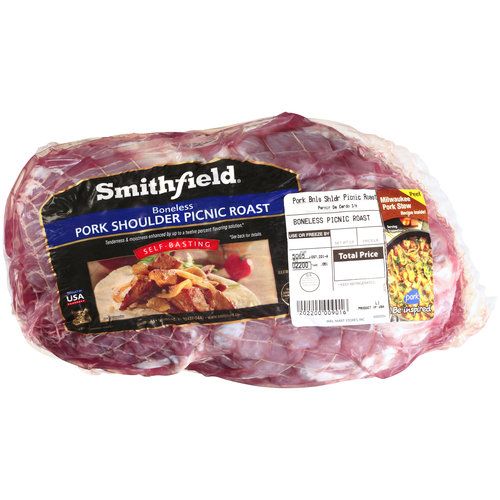 The marinade is very simple.
1.5 C oil (good quality olive or canola)
1.5 C bitter orange juice (If not available use 1/3 C regular orange juice, 1/3 cup lemon juice, 1/3 cup lime juice)
1 large onion (I use big Vidalia Sweet Onions) diced
salt
pepper
lots of Cumin
10 cloves finely diced fresh garlic
lots of fresh cilantro chiffonade
optional: 1 or 2 hot green chilies very finely diced
Combine the juices in a sauce pan. Add all other ingredients. Wisk. Heat over medium flame until small bubbles form around edge. Remove from heat. Cool.
Prepare Picnic Shoulder. Mine came in a stretchy net thingy which I removed and threw away. I rinsed and dried the meat, lightly salt and peppered it. Using a large meat fork or the tip of a sharp paring knife, make slits/small pockets all over pork.
Once marinade has cooled, place meat in a large plastic bag. Pour marinade over and seal. Place in fridge. I marinaded the shoulder for two days. You can marinade it over night if you wish. I prefer the longer marinade as I think it's worth the extra time to achieve extra tender meat. Turn the bag over when you think of it. You will be impressed by how much of the marinade the meat soaks up.
I choose to cook my pork/lechon in the crock pot because it just sits there all day doing its own thing and making the house smell delicious. In fact, my daughter and her BF opened the front door and yelled, "What are you cooking? We smelled it as soon as we opened the door and it's fantastic!" I just dump the picnic shoulder in the crock pot and pour the marinade over it and cook on low setting. If you're not a crock pot person, you can cook this in the oven in a cast iron Dutch oven at 300 degrees for five or so hours, or on a low flame on the stove or even on a grill over low coals/heat.
Here's the thing about cooking this meat. If you want to be able to slice it, cook it to 170 degrees or so. I prefer to shred my pork so I cook until about 195 degrees or until it easily shreds using 2 forks.
During the last 20 minutes I cooked the pork, I thinly sliced another onion and 1 lime. I threw them on top of the pork and turned the crock pot to high, cooking just until the onions were crisp/tender. I served the Lechon Asado with white rice and black beans.
I have found that using a Spanish rice works best with this dish. I use Valencia rice. It is sometimes called paella rice. It's a short grained rice that looks like Arborio rice used for Risotto. The difference is that Valencia is excellent for soaking up liquid, such as the juice/marinade of this meat, but it retains its shape and individual rice grains without getting creamy like Arborio rice. American long grain rice no matter how well you cook it does not hold up or taste like Valencia rice. Trust me on this one.
This dinner was a real hit with everyone. If you look closely at the photo you will see what I mean about how well the Valencia rice holds up and each grain retains its individuality.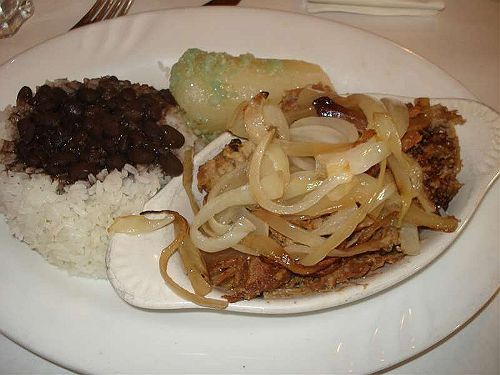 Dana
|
Post a Comment
|