Thursday, January 15, 2009 at 3:21AM
A salmagundi is what this shall be...
My course/lecture yesterday was fabulous. We spoke of philosophy, the physical, the mental, the metaphysical. The professor spoke of religion and of god. He is a secular humanist like me. I would imagine that most philosophy professors are. He is English, like my husband, with a similar southeastern England accent. (Oh, as a brief digression, many English do not wish to be called British. British includes the Scots, the Welsh and the Northern Irish aswell as, in a larger sense, anyone who holds a British passport. It is a bone of contention on some fronts.) This slide back into acadamia for me was like what I imagine it is to be an addict falling off the wagon and taking a hit. I felta rush ofsomething deep inside of me that went all the way to my toes. Because this is a lecture series, there is limited interaction which is different for me, but I've decided although not my preferenceis OK. It's a lazy way to learn, but I tend to be quite lazy these days. Also, yesterday I figured up that I have 136 undergraduate credit hours and 120 graduate credit hours plus a thesis and a dissertation so why don't I just relax a bit and enjoy? I did enjoy all the other stuff immensely though.
---
The potluck supper is tomorrow. We have about 30 people signed up. I decided that I should make a flower arrangement for the dessert table so I went for a walk along the canal and found these red berry bushes gowing and liked them. I also grabbed a few fern stalks. When husband saw it he screamed, "That's deadly nightshade!" I have no idea what Deadly Nightshade is, but I promised him I wouldn't let anyone eat the flower arrangement. We really are such an odd couple. I see beauty in everything, him not too much.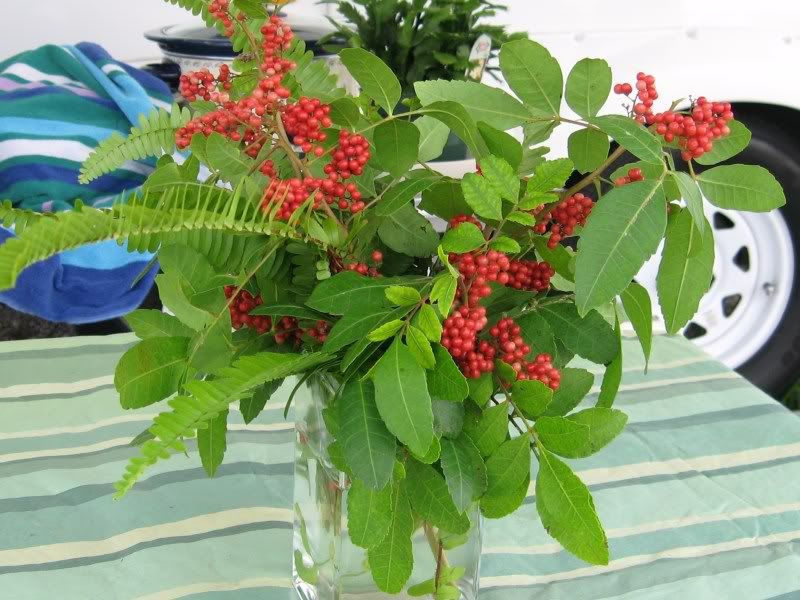 ---
My second class in the lecture series begins tomorrow. I am really excited about this one. Here's the course description. Doesn't it sound great?
White Trash: Poor Whites and/in America
Dr. Taylor Hagood

Course Description: Despite the fact that he made millions as an entertainer, Elvis Presley arguably never shed his poor white sheen. However well educated he is, President Bill Clinton is often seen as being, at heart, a poor white. The term " white trash" has been leveled as an insult in countless venues, and images and performances of poor whiteness bombard us constantly, whether it be in popular talks shows or in country music videos. What has become clear is that the designation " white trash," or its slightly less offensive version "poor white," is both a class (poor) and a race (white) designation, and it is also the case that this group has certain sets of values that play a part in U. S. politics—for example, Andrew Jackson was elected to the presidency on the strength of non-land-holding white men who had just obtained the right to vote. In this course, we will read and discuss a few short works of fiction, watch film, consider newspaper articles and examine the lyrics and iconography of country music as we contemplate the presence and role of poor whites in the United States. These readings/viewings will be alternately funny, sexy, horrifying and sad, as the world of poor whiteness is often both seductive and repulsive, appealing and frightening.

Eight Lectures:
1. White Trash Ground Zero: In this first lecture we will talk about how the poor white race was formed early in American history, pondering the political, economic and cultural forces that created this group and also pondering the various facets of its nature.
2. President Jackson's Populace: For this session we will read and discuss a couple of short stories by a group of writers referred to as "Southwest Humorists." Written in the 19th century, these stories are humorous depictions of what poor whites look like to educated readers.
3. Erskin's World: The foremost writer about poor whites in the first half of the 20th century was Erskin Caldwell and we will read his book God's Little Acre (which was banned on charges of obscenity) and discuss the similarities and differences between his vision of poor whites and those that came before him.
4. James Agee and Noble Trash: At the same time that Caldwell was presenting poor whites as grotesque, James Agee took a more empathetic approach in his landmark text Let Us Now Praise Famous Men, short excerpts of which we will read and discuss.
5. Harry, Daisy and The Clampetts: The 1970's brought a plethora of poor white images both in text and on the television screen. We will read a short novel by Harry Crews (white trash writer par excellence) and consider the presence of poor white in popular culture.
6. Waylon, Willie and Billy: In this session we will consider the iconography as well as the lyrics of country music, from Waylon Jennings and the Outlaws to the Billy Ray Cyrus phenomenon to the (arguably) watered-down poor whiteness of contemporary country.
7. The Springer Show: This class will feature excerpts from Jerry Springer's shows and others that emulate him in their exuberant celebration of poor whiteness while also considering the edgier world of John Waters. We will conclude with a consideration of the significance of Anna Nicole Smith and Britney Spears as poor white icons.
8. White Trash Now: The class will conclude with a consideration of where poor whiteness goes from here. We will read the short book, Trash, by Dorothy Allison and consider what impact poor whites will have on the nation's political, cultural and economic future.

Biographical Information: Dr. Taylor Hagood received his Ph.D. at the University of Mississippi and is an assistant professor of American literature at FAU. He is the author of Faulkner's Imperialism: Space, Place, and the Materiality of Myth, and his articles on Faulkner and Southern and American literature have been published in The European Journal of American Culture, Faulkner Journal, The Southern Literary Journal, The Mississippi Quarterly, and The Walt Whitman Quarterly Review.

COURSE NO. W8R3

Time:
Dates:



Place:




Fee:

11:15 a.m. - 1:00 p.m.
Thursdays, Jan. 15, 22, 29; Feb. 5, 12, 19, 26; Mar. 12
NO CLASS March 5
Lifelong Learning Complex, Jupiter Campus
$68/member; $88/non-Member
Dana
|
Post a Comment
|