Monday, August 10, 2009 at 6:44PM
Joke: Why did the Buddhist rotisserie chicken quit crossing the road?
Answer: So she wouldn't have to keep being reincarnated as a new dish/recipe at Dana's house
Yuck, Yuck, Yuck...OK, not so funny, but I just made it up and humor isn't my forte'.
---
I was determined to use every last bit of that chicken. About three years ago I had a wonderful Curry Chicken Salad at the Norton Museum of Art restaurant. I tried making it once, but couldn't quite nail it. Today though...well, today was a home run. I used what I had on hand. Be creative when you try this. The salad at the Norton had grapes and almonds. I had dried apricots and cashews. Recipe follows: (ALL MEASURES ARE APPROXIMATE)
Curry Chicken Salad
2 cups diced chicken
3/4 cup diced onion
2 stalks diced celery
1/2 cup chopped cashews
3/4 cup diced dried apricots
1/3 cup chopped fresh parsely
2T curry powder*
1T cumin
salt
freshly ground pepper
3/4 cup sour cream OR plain yogurt OR yuck, but if you like it, ok...a high quality mayonnaise like Dukes
*my advice is to start with lesser amounts of spices, sour cream etc and keep tasting until your taste buds start doing the happy dance...you can always add more seasoning if needed, but you can't remove it once added.
**this version is soo good it's a sacrilege to overpower it with bread. We ate it naked (the chicken salad, not us...those days are long gone) accompanied by multi-grain crackers...wonderful!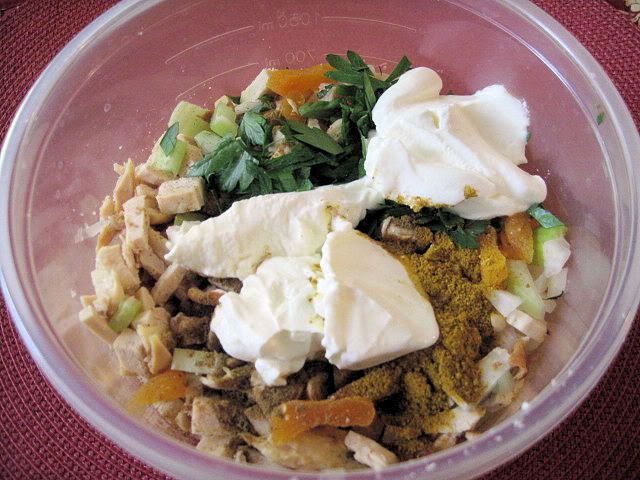 tagged
Chicken Salad,
Curry,
leftovers,
photos
in
Everyday Ramblings,
Food and Recipes